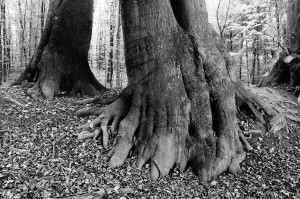 leaves like love let go
spiral down to snoozing earth,
dark, russet-brown loam.
*
when fall took those leaves
love became a lonely land—
warmth withdrawn, wan sun's
*
waning light bled slow
blind trails of mud and sodden
footsteps veined with ice
*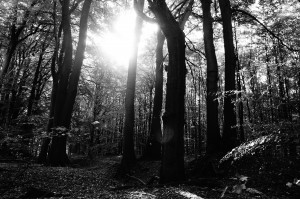 where ghosts shadowed past,
skulked all through that leafless land
to haunt our autumns…
*
stark, unfelled, strange-boughed—
love's remains in lonely land:
bare old beeches, clumped,
*
storm-ridden and gaunt,
sheltering our homeless hearts,
winterblown—like us,
*
love's a vagabond
wandering to a nameless place
of endless leaving—
*
on tracks untravelled
from fall to spring, we will see
leaves, let go, return.
___________________________________________________________________________________
– I originally wrote this haiku chain on Twitter — a bad habit of mine — poetry on Twitter being so hit and miss, nobody's looking for it — but I find it a good place maybe for knocking out a first draft.
– When I'd written it I thought Love is a lonely land was a new phrase but then I checked and I saw I had actually lifted it (subconsciously…) from an old, sweet song.
– This was Billie Holiday's beautiful, mournful Deep Song (by Cory and Cross), which includes the line:
Love lives in a lonely land
and ends:
Love is a barren land, a lonely land/A lonely land.
– That's a song I must have listened to more than a couple dozen times since childhood (my parents also loved Billie Holiday).
– At any rate, my haiku chain has ended up as a sort of retort — a positive echo if you like — to the somewhat bleak sentiments of Deep Song…
– So thanks to Billie, Cory and Cross!
– And here's their song in all its glory: