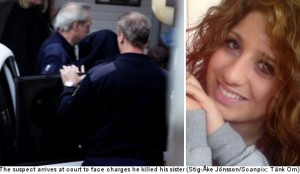 Her brother was only 16 when he stabbed her more than 100 times, in April 2012.
She'd returned to Sweden a year before, fleeing an arranged marriage in Iraq.
Knowing the possible consequences of her brother's concern for the family "honour", she always slept with a knife under her pillow.
Local authorities, terrified of upsetting sensitivities, ignored repeated warnings from the anti-honour-killing group Tank.
The boy duly killed his sister. Originally sentenced to eight years, that sentence has been halved in light of his age at the time of his crime.
Court slashes sentence in 'honour killing' case – The Local.